Raptor RP5824 57,5″
Τιμή:
57-inch 4k x 2K Primary Control Monitor
The Raptor RP5824 is a 57.5-inch 4K × 2K resolution primary control monitor developed specifically for air traffic control centers. Its large 8 megapixel screen allows controllers to view more data simultaneously in a single location for a streamlined workflow.
Τιμή:
---

Streamline Your Workstation
Display 4K × 2K resolution data in full on one screen without the obtrusive bezels typically found in multi-monitor workstations. In addition, 2K × 2K and auxiliary information can be displayed simultaneously on a single screen using EIZO's Large Monitor Manager* for controlling video signals. This allows controllers to view more information easily in one place instead of across multiple monitors.
High Contrast for Clear Images
The monitor's exceptional contrast ratio of 4000:1 displays ATC data with a high level of clarity for distinguishing details.
Optimized Brightness Settings
The monitor comes with several preset brightness settings optimized for ATC environments. This allows the controller to conveniently select the setting most appropriate according to ambient lighting conditions and helps to reduce eye fatigue.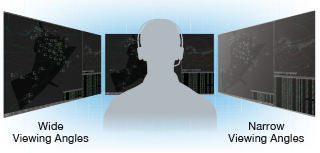 Wide Viewing Angles
The panel has 176° wide viewing angles so it exhibits minimal change in contrast and hue when viewed from off center, allowing the controller to see all data on the screen from any position without compromising clarity. This also allows more than one person to view the screen more comfortably.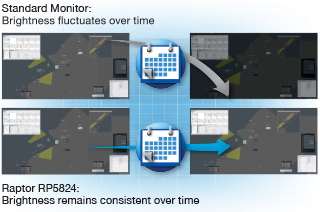 Brightness Stabilization
EIZO's full automated stability function uses an internal backlight sensor to stabilize the brightness level throughout the life of the monitor, compensating for fluctuations caused by variations in ambient temperature and the passage of time.
Long-Lasting Direct LED Backlight
The monitor is equipped with two independent direct LED backlight systems that are highly efficient compared to conventional CCFL backlights, saving energy even when running at high brightness levels. The direct backlight systems also offer superior brightness uniformity for smoother images across the entire screen compared to edge-type backlight solutions.
Convenient Installation
The monitor supports VESA mounting for conveniently installing in open or closed ATC consoles.
| | |
| --- | --- |
| Ανάλυση Οθόνης | |
| Διαγώνιος Οθόνης | |
| Τύπος Panel | |
| Χρώμα | |
| Χρόνος Απόκρισης | |
Τεχνικά Χαρακτηριστικά
| | |
| --- | --- |
| Panel | |
| Size | 57.5″/ 146 cm (1,460 mm diagonal) |
| Native Resolution | 3840 x 2160 (16:9 aspect ratio) |
| Viewable Image Size (H x V) | 1270 x 721 mm |
| Pixel Pitch | 0.3307 x 0.3338 |
| Grayscale Tones | 256 tones |
| Display Colors | 16.7 million |
| Viewing Angles (H / V, typical) | 176°, 176° |
| Brightness (typical) | 300 cd/m2 (maximum) |
| Contrast Ratio (typical) | 4000:1 |
| Response Time (typical) | 9.5 ms (Gray to Gray) |
| Video Signals | |
| Input Terminals | DVI-D 24 pin (dual link) x 2 |
| Digital Scanning Frequency (H / V) | 257 MHz (pixel), 59.7 – 60.5 Hz (Vsync) |
| Power | |
| Power Requirements | AC 100 – 240 V |
| Maximum Power Consumption | 400 W |
| Power Save Mode | 38 W |
| Physical Specifications | |
| Dimensions (Landscape, W x H x D) | 1319 x 776 x 146 mm |
| Features & Functions | |
| Communication Interface | USB B Connector |
| Physical Specifications | |
| Net Weight | 47 kg / 103.6 lbs |
| Environmental Requirements | |
| Operating Temperature | 5 – 40 °C / 41 – 104°F |
| Operating Humidity (R.H., non condensing) | Max. 80% (no condensation) |
| Storage Temperature | -20 – 55 °C / -4 – 131°F |
| Certifications & Standards (Please contact EIZO for the latest information.) | CE, UL, FCC, RoHS, WEEE, CCC |
| Warranty | Two Years |