Raptor SQ2825
Τιμή:
28.1-inch 2k x 2k Primary Control Monitor
The Raptor SQ2825 is a 5th generation 2K x 2K primary control monitor developed to meet the specific requirements of mission-critical ATC environments. It features a new design, a unique LED direct backlight system, operational reliability, and extensive customization.
Τιμή:
---
15+ Years of Primary Control Monitor Manufacturing
EIZO has been an industry leader in the innovation and development of quality 2K primary control monitors for ATC since 2005. Backed by over 50 years of technical expertise in visual display solutions, the Raptor SQ2825 is a 5th generation 2K x 2K monitor that culminates the features and functionality of EIZO's line of primary control monitors while adding further value with new technology and improved operational reliability.
Design
Slim Bezels
The unobtrusive bezels are approximately 40% slimmer than the previous model, measuring at just 35 mm on all sides so ATCOs can focus more on the screen.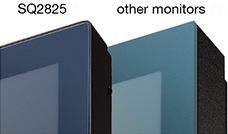 Protection Glass
Protection glass is optional with two variations – standard and fully flat. Standard glass covers the visible part of the LCD panel and extends to the inner bezel. Fully flat glass reaches to the edges of the monitor for a smooth, streamlined look. The monitor's housing is built with edge protection for fully flat glass so it is not exposed and vulnerable to damage.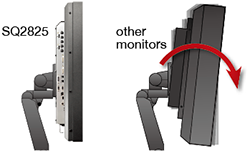 Balanced Design
The monitor's depth has been reduced, bringing the weight distribution closer to the center of mass for lowering stress on mounting fixtures over time. It is also 50% lighter and more compact than the previous model, weighing just 14.6 kg.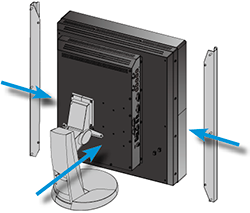 Mounting Flexibility
The newly designed rear housing can be easily configured to any mounting requirements without needing to remove any part of the housing. This ensures flexibility for meeting new installations or hardware changes that require desktop, VESA, chassis, panel mount or any combination thereof.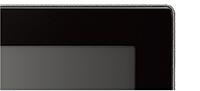 Rounded Corners
The monitor's design features rounded corners and edges for a pleasing and modern aesthetic.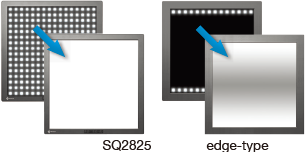 Direct Backlight System
Brightness Uniformity
The monitor's unique LED direct backlight system has 16% more LED cells than its predecessor for increased efficiency. It offers superior brightness uniformity for smoother images compared to edge-type backlight solutions.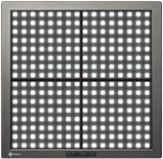 Mission-Critical Redundancy
The direct backlight system is divided into four interchangeable quadrants, each of which performs consistently over a lifetime of 100,000 hours. Each quadrant is controlled by two independent sub-unit driver boards that protect the on-screen information from being visually impacted in the unlikely event that an LED stops performing.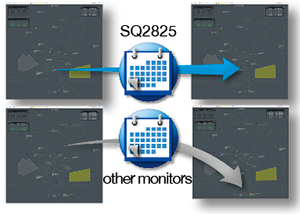 Brightness Stabilization
EIZO's fully automated stability function uses an internal backlight sensor to stabilize the brightness level throughout the life of the monitor, compensating for fluctuations caused by variations in ambient temperature and the passage of time.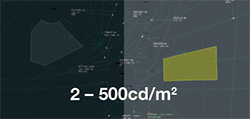 Wide Brightness Range
The monitor can be adjusted within a wide brightness range of 2 to 500 cd/m2 to suit your environment's requirements as well as the needs of the ATCO.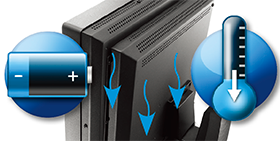 Energy Efficiency
The monitor consumes just 120 watts at maximum brightness (500 cd/m2) and even less under typical operating conditions in control rooms. This saves energy and significantly reduces heat generation within the monitor; a leading cause of component failure.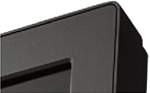 Durability and Reliability
Industrial-Grade Housing
The monitor's housing uses full sheet steel industrial-grade housing for durability in demanding mission-critical environments.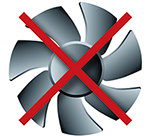 Fanless Operation
The monitor provides noiseless, fanless operation while still maintaining low heat output without impacting performance.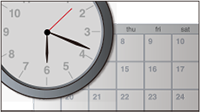 24/7 Operation
The Raptor SQ2825 is developed specifically for meeting the stringent requirements of mission-critical ATC environments with 24/7 operation.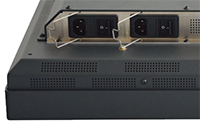 Built-In Power Supply
While other solutions may require a bulky power brick to operate, the Raptor SQ2825 has its power supply built in. This provides a cleaner and more manageable installation area. A secondary built-in power supply is available as an option.
Extensive Customization
EIZO offers extensive customization in order to meet the specific needs of individual control centers.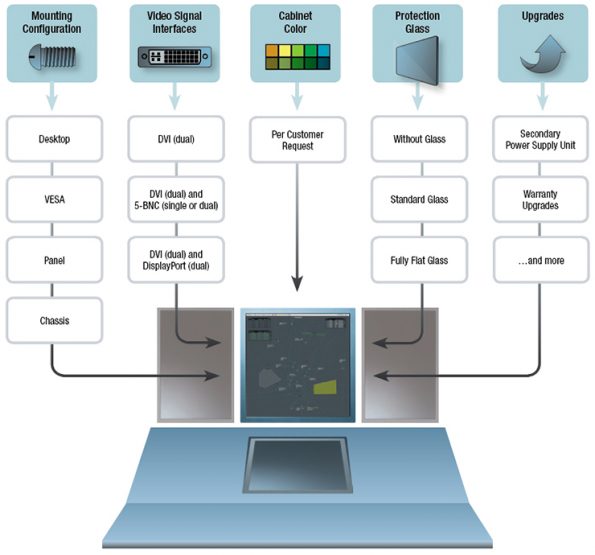 Additional Features
Complete Connection
Dual link DVI video signal inputs are included as well as the option of an additional DisplayPort or analog 5-BNC inputs. The monitor also comes equipped with a wide range of communication interfaces for connection to a network, remote monitor management, or maintenance purposes – RS232, RS422, USB, and TCP/IP
| | |
| --- | --- |
| Ανάλυση Οθόνης | |
| Διαγώνιος Οθόνης | |
| Τύπος Panel | |
| Χρώμα | |
| Χρόνος Απόκρισης | |
Τεχνικά Χαρακτηριστικά
Panel
Type
VA
Backlight
Direct LED backlight system
Size
28.1″ / 71.2 cm
Native Resolution
2048 x 2048 (1:1 aspect ratio)
Viewable Image Size (H x V)
503.8 x 503.8 mm
Pixel Pitch
0.246 x 0.246 mm
Display Colors
16.77 million
Viewing Angles (H / V, typical)
178°, 178°
Brightness (typical)
2 – 500 cd/m2
Contrast Ratio (typical)
1800:1
Response Time (typical)
25 ms
Video Signals
Input Terminals
DVI (dual link) x 2, 5-BNC (single or dual, optional) or DisplayPort (dual, optional)
Digital Scanning Frequency (H / V)
2 – 130 MHz (pixel) / 60 Hz
Analog Scanning Frequency (H / V)
30 – 130 kHz, 50 – 70 Hz
Sync Formats
Separate Sync 1-5 Vpp (75 Ω) / Sync on Green
USB
Upstream
USB 2.0: Type-B x 2
Power
Power Requirements
AC 90 – 264 V, 47 – 63 Hz
Typical Power Consumption
60 W (Brightness: 150 cd/m2)

50 W (Brightness: 70 cd/m2)

Maximum Power Consumption
120 W
Features & Functions
Brightness Stabilization
Yes
OSD Languages
English, German, Spanish, French
Communication Interface
RS-232C, RS-422, USB, RJ-45
Communication Protocol
SNMP, DDM, TCP/IP
Others
External Keyboard Interface
Physical Specifications
Dimensions (Landscape, W x H x D)
576 x 599 – 684 x 322.9 mm
Dimensions (Without Stand, W x H x D)
576 x 576 x 119 mm
Dimensions (Chassis, W x H x D)
601 x 576 x 119 mm
Net Weight
19 kg
Net Weight (Without Stand)
14.6 kg
Net Weight (Chassis)
15.8 kg
Height Adjustment Range
85 mm
Tilt
25° Up, 0° Down
Swivel
172° Right, 172° Left
Hole Spacing (VESA Standard)
100 x 100 mm, 200 x 100 mm
Environmental Requirements
Operating Temperature
0 – 40 °C
Operating Humidity (R.H., non condensing)
max. 95%
Storage Temperature
-25 – 60 °C
Certifications & Standards (Please contact EIZO for the latest information.)
CE, UL, c-UL, FCC, REACH, RoHS, WEEE, CCC
Warranty
Two Years
Dimension Drawing
PDF