Raptor RP4325 42,5″
Τιμή:
42.5-inch 4k x 2k Primary Control Monitor
The Raptor RP4325 is the first 4K x 2K primary control monitor developed specifically for ATC. It features optimal use with 4K resolution, a sleek cabinet design, operational reliability, and customer-driven customization.
Τιμή:
---
15+ Years of Primary Control Monitor Manufacturing
EIZO has been an industry leader in the innovation and development of quality 2K primary control monitors for ATC since 2005. Backed by over 50 years of technical expertise in visual display solutions, the Raptor RP4325 is the industry's first 4K x 2K monitor developed specifically for ATC. It combines the features of EIZO's line of primary control monitors while adding further value with 4K resolution, unique functionality, and operational reliability.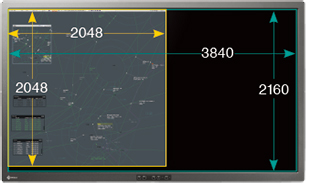 Optimal Use
4K x 2K High Resolution
Display 4K x 2K high resolution data in full on one screen without the obtrusive bezels typically found in a multi-monitor workstation. 2K x 2K and auxiliary information can also be displayed simultaneously on a single screen, allowing controllers to view more information easily in one place.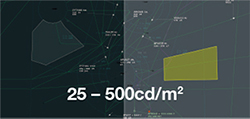 Wide Brightness Range
The monitor can be adjusted within a wide brightness range of 25 to 500 cd/m2 to suit your environment as well as the needs of the ATCO.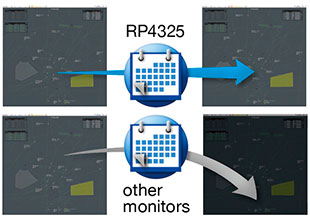 Brightness Stabilization
EIZO's fully automated stability function uses an internal backlight sensor to stabilize the brightness level througout the life of the monitor, compensating for fluctuations caused by variations in ambient temperature and the passage of time.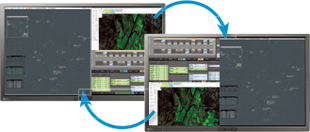 Simultaneous Input Signals
The Raptor RP4325 can display input from up to four video sources simultaneously. Users can freely position each screen for a highly customizable layout.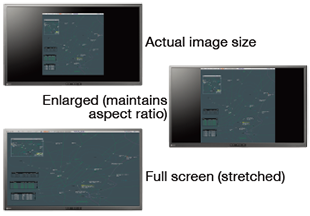 Resolution Scaling
The Raptor RP4325 supports resolution scaling for each of its video inputs. Any non-native resolution can be displayed in its actual size, scaled proportionately, or expanded to fill the screen.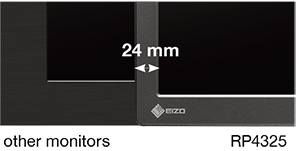 Slim Bezels
The unobtrusive bezels measure just 24 mm on the sides so ATCOs can focus more on the screen.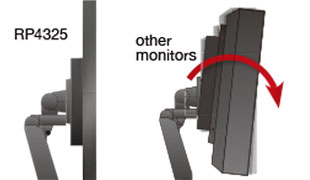 Balanced Design
The monitor's depth is designed to be minimal to bring the weight distribution close to the center of mass. This lowers stress on mounting fixtures over time. It weighs just 20.5 kg in consideration of the installation environment.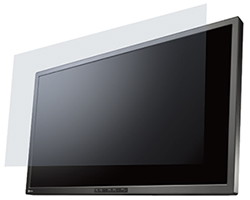 Protection Glass
Protection glass is optional and covers the visible part of the LCD panel for increased reliability.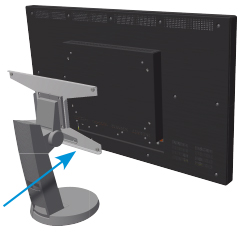 Mounting Flexibility
The monitor supports VESA mounting for conveniently installing in open or closed ATC consoles. A desktop version with a stand is also available as an option.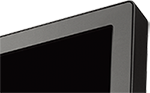 Rounded Corners
The monitor's design features rounded corners and edges for a pleasing and modern aesthetic.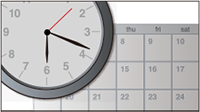 Durability and Reliability
24/7 Operation
The Raptor RP4325 is developed specifically for meeting the stringent requirements of mission-critical ATC environments with 24/7 operation.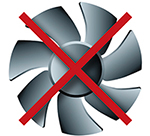 Fanless Operation
The monitor provides noiseless, fanless operation while still maintaining low heat output for reliability.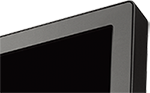 Industrial-Grade Housing
The monitor's housing uses full sheet steel industrial-grade housing for durability in demanding environments.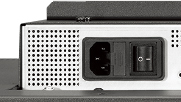 Built-In Power Supply
While other solutions may require a bulky power brick to operate, the Raptor RP4325 has its power supply built in. This provides a cleaner and more manageable installation area. A secondary built-in power supply is available as an option.
Extensive Customization
EIZO offers extensive customization in order to meet the specific needs of individual control centers.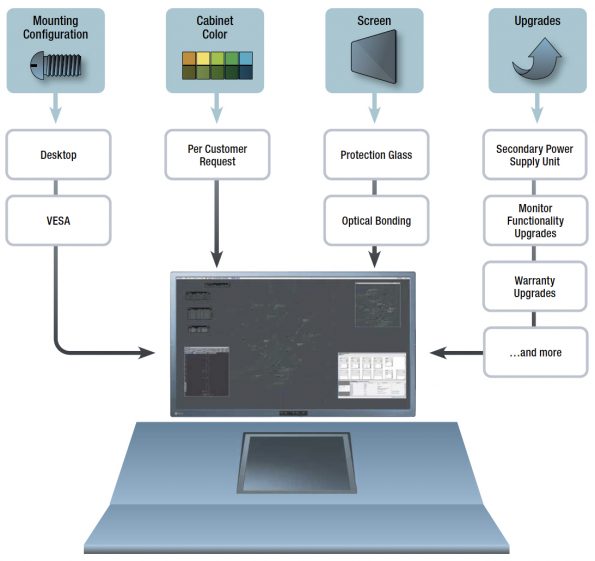 Energy Efficiency
The monitor consumes up to just 125 watts at maximum brightness (500 cd/m2) and even less than that under typical operating conditions in control rooms. This saves energy and significantly reduces heat generation within the monitor, a leading cause of component failure.
Additional Features
Complete Connection
The monitor is equipped with two dual link DVI video signal inputs and two DisplayPort 1.2 inputs. It also comes equipped with a wide range of communication interfaces for connection to a network, remote monitor management, or maintenance purposes – RS232, USB, and TCP/IP.
| | |
| --- | --- |
| Ανάλυση Οθόνης | |
| Διαγώνιος Οθόνης | |
| Τύπος Panel | |
| Χρώμα | |
| Χρόνος Απόκρισης | |
Τεχνικά Χαρακτηριστικά
Panel
Type
VA
Backlight
Edge-type LED backlight system
Size
42.5″/ 108 cm
Native Resolution
3840 x 2160 (16:9 aspect ratio)
Viewable Image Size (H x V)
941.2 x 529.4 mm
Pixel Pitch
0.245 x 0.245 mm
Display Colors
16.77 million
Viewing Angles (H / V, typical)
178°, 178°
Brightness (typical)
25 – 500 cd/m2
Contrast Ratio (typical)
4000:1
Response Time (typical)
8 ms (gray-to-gray)
Video Signals
Input Terminals
DisplayPort x 2, DVI (dual link) x 2
Digital Scanning Frequency (H / V)
260 MHz (2 x 130 MHz dual link)) / 60 Hz
USB
Upstream
USB 2.0: Type-B
Downstream
USB 2.0: Type-A x 2
Power
Power Requirements
AC 100 – 240 V, 50 – 60 Hz
Typical Power Consumption
50 – 70 W (Brightness: 150 cd/m2)

(Actual power consumption depends on active monitor functions.)

Maximum Power Consumption
125 W
Features & Functions
Brightness Stabilization
Yes
Communication Interface
RS-232C, USB, RJ-45
Communication Protocol
SNMP, HTTP, HID, Modbus/TCP
Physical Specifications
Dimensions (Landscape, W x H x D)
992 x 613 – 673 x 322.9 mm
Dimensions (Without Stand, W x H x D)
992 x 588 x 93.4 mm
Net Weight
26.2 kg
Net Weight (Without Stand)
20.5 kg
Tilt
25° Up, 0° Down
Swivel
172° Right, 172° Left
Hole Spacing (VESA Standard)
400 x 200 mm
Environmental Requirements
Operating Temperature
0 – 40 °C
Operating Humidity (R.H., non condensing)
Max. 90%
Storage Temperature
-20 – 60 °C
Degree of Protection
IP20
Certifications & Standards (Please contact EIZO for the latest information.)
CE, UL, FCC, REACH, RoHS, WEEE
Warranty
Two Years