LMM0802
Τιμή:
The LMM0802 is a Large Monitor Manager for 2, 4 and 8 megapixel monitors. It gathers various video inputs and display them on the large screen. Different layouts can be arranged according to user preferences and working situation. This simplifies the surgeon's individual workflow.
Small dimensions allow easy installation in existing systems.
Single and Dual Workspace supported.
Video signal is valid at the output within 4 seconds after switching on.
Long product life cycle by using ling term available parts.
Maximum image latency of one frame (input to output).
Switch time between layouts sets less than 0.5 second with flicker-free picture.
Scaler output allows distribution of arranged image to HD monitor or recording system.
Τιμή:
---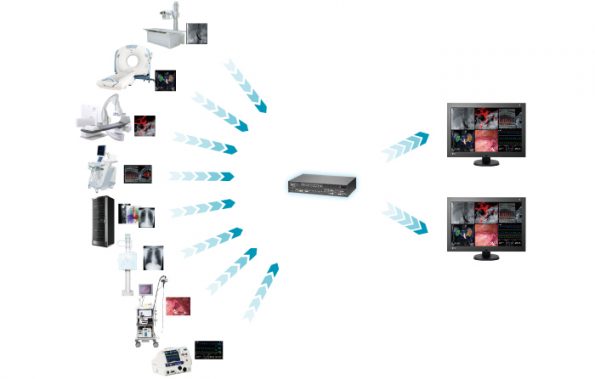 All Gather In One
The Large Monitor Manager LMM0802 bundles up different signal sources, displays them concurrently on one or two displays and enables to control them from one location.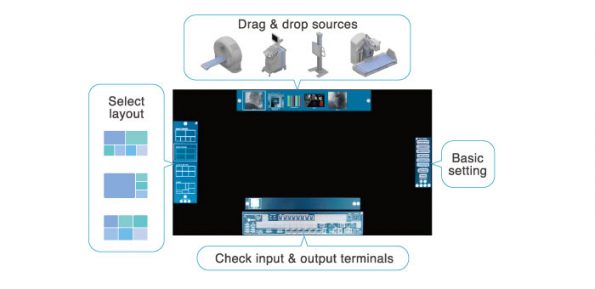 Saving Time by Optimizing Workflow
Individual image placement and window size preferences suited to the respective application can be easily arranged, predefined using the Large Monitor Manager. Using a touch panel console monitor, the optimum display can be selected for the current work step. The user interface is intuitive, making costly user training unnecessary.
Various Image Sources
The LMM0802 has 12 video input terminals. Of these, 8 terminals can process digital DVI signals up to a resolution of 1920 x 1200. Additionally, there are two PAL/NTSC and two analog terminals available. A maximum of 8 signal sources can be displayed simultaneously in 16 different windows on the monitor.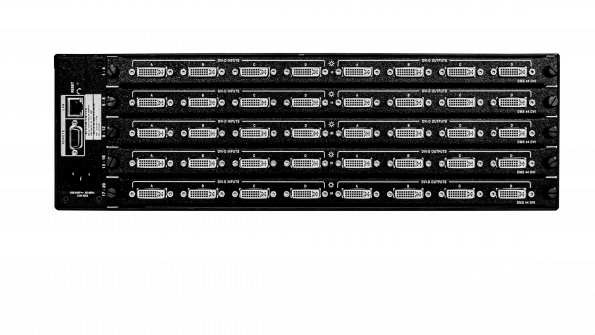 Added Inputs and Outputs
For the Large Monitor Manager, up to 28 video sources and additional outputs are possible when combined with the Extron DMS 2000 Matrix.

One Monitor, Keyboard and Mouse
Working with the Large Monitor Manager, the operator can focus on a single monitor, keyboard and mouse instead of juggling with multiple systems. This speeds up workflow and reduces the potential for handling errors. Alternatively, controlling from two workspaces is possible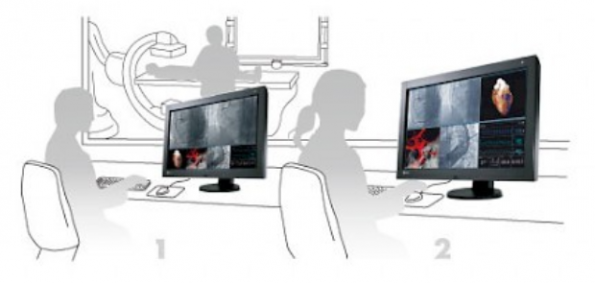 Dual-Workstation Support
Connect up to two monitors, keyboards, and mice to support a two-person workstation so more than one control room operator can efficiently manage how images are displayed in the OR.

Short Start-Up Time and High Safety Level
After a system reboot, the image is available within 4 seconds. This guarantees immediate readiness, even after a power failure. A monitoring function for all the relevant components of the device and the possibility to communicate with the higher level of the system allows high functional safety.
Local and Remote Control
Layout edition or layout change, either can be done with local keyboard and mouse or remotely by browser interface. With the LMM Control software installed on a touch screen PC, the inputs can be switched and the function "Dynamic Layout" can be operated.*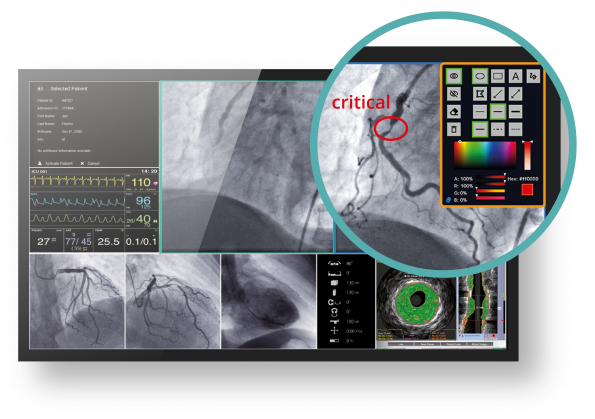 Add Comments and Tags*
Graphic objects or texts can be created as annotations on the screen by local operation via the On Screen Display (OSD) using the "Annotation" function.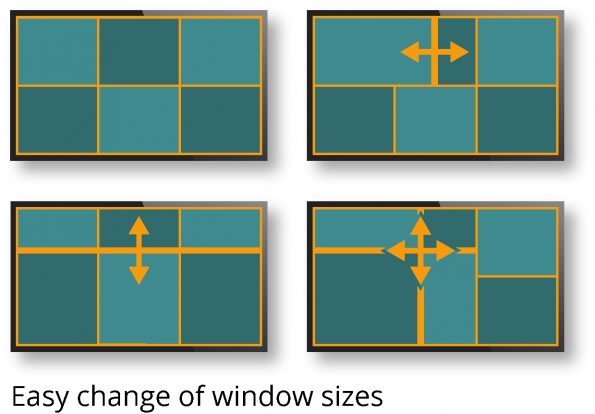 Dynamic Layout*
The positions and sizes of the windows specified during system configuration can be enlarged or reduced via the user interface LMM Control or during local operation (OSD) with the mouse. You can also zoom in and out of each window.
*For the functions described, the optionally available software package 4.0.0 Extended is required.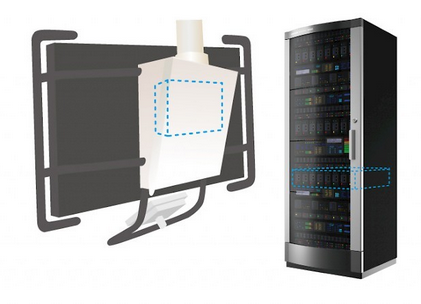 Small and Compact Size
The small size allow flexible integration in existing systems, it can easily be mounted on a ceiling suspension, into a rack or into a wall console.
Designed for Medical Field Requirements
The Large Monitor Manager is designed in accordance with the special requirements for the medical field, so an ambient temperature of up to 45° C is permitted and the electrical safety is tested to IEC 60601-1. In addition, electronic components are selected which are available permanently to guarantee long-term system continuity.
Specifications
General
| | |
| --- | --- |
| Cabinet Color | Black |
| Certifications & Standards (Please contact EIZO for the latest information) | CE, IEC/EN60601-1, CAN/CSA-C22.2 No. 60601-1, ANSI/AAMI ES60601-1, EN55022-Class-B, RCM, RoHS, China RoHS, WEEE, CCC |
| Supplied Accessories | AC power cord (us, eu, cn, jp), adapter cables (HDMI – DVI) x 6, mounting brackets, screws x 2, Utility Disk (PDF Instructions for Use, test patterns) |
| Optional Accessories | Sofwareupdate 4.0.0 (functions: Annotation, Dynamic Layout, LMM Control), Extron DMS 2000 20×20 DVI Matrix |
Video Signals
Input Terminals
Digital: HDMI connectors (DVI signals only) x 6
Digital / Analog: DVI-I x 2
Analog: D-Sub mini 15 pin x 2, mini DIN x 2
8 simultaneous visible inputs (in 16 windows maximum)
Input Resolution
Digital: DVI-D (single link), 1920 x 1200 maximum, 60 Hz or 2048 x 1536, 30 Hz (165 MHz pixelclock maximum, horizontal size 2048 maximum)
Analog: DVI-I, VGA, 1920 x 1200 maximum, 60 Hz (170 MHz pixelclock maximum, horizontal size 1920 maximum), S-Video (PAL/NTSC), SoG
Output Terminals
DVI-D (dual link) x 2, HDMI connector (DVI single link signals only, scaler output)
Output Resolution
8MP (4096 x 2160: 2048 x 2160 x 2),
8MP (3840 x 2160: 1920 x 2160 x 2),
2 x 4MP (2560 x 1600),
2 x 3.7MP (2560 x 1440),
2 x FHD (1920 x 1080),
2 x 2.3MP (1920 x 1200),
2 x 2MP (1600 x 1200)
HDMI connector: FHD (1920 x 1080)
USB
| | |
| --- | --- |
| Upstream | USB x 8 (for control of video applications on PC) |
| Downstream | USB x 6 (e.g. for keyboard, mouse, joystick) |
Interface Specifications
| | |
| --- | --- |
| Communication Connector | Ethernet (RJ45) |
Features & Functions
| | |
| --- | --- |
| Controls and Status | Graphical user interface and software control interface for operating, status and diagnosis, LED indicators for hardware status x 2 |
| OSD Languages | English, German, French, Japanese |
Power
| | |
| --- | --- |
| Power Requirements | AC 100 – 120 V, 200 – 240 V: 50 / 60 Hz |
| Maximum Power Consumption | 100 W |
Environmental Requirements
| | |
| --- | --- |
| Degree of Protection | IP20 |
Physical Specifications
| | |
| --- | --- |
| Net Weight | 5.3 kg |
| Dimensions (mm) | 19″ rack design, 2 U high |