PDC0100
Τιμή:
The PDC0100 converts analog video signals into digital DVI format. This allows existing analog systems and devices that use digital signals to be combined. With a range of accessories and high interconnectivity, the converter allows maximum flexibility for integration into existing systems.
Τιμή:
---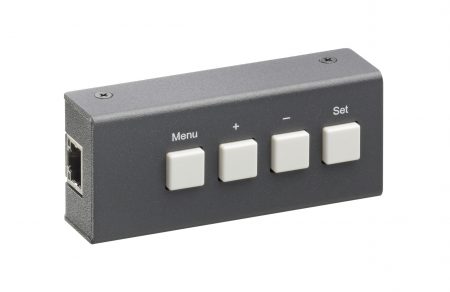 Remote control for required settings
The PDC0100 is operated via a cable remote control. This allows the necessary settings to be made on the monitor via remote access and an OSD menu. This can also be used without input signal.
Force Mode
With the Force Mode function, the Analog-DVI-Converter PDC0100 can be adapted to special timing settings that the monitor does not automatically detect. In this case, it is necessary to adjust the detected timing. The integrated Force Mode supports even unusual analog signals. Up to five Force Mode timings can be stored.
Different timings
Different timings are stored in the monitor at the factory. As soon as a video signal is present, a suitable timing is sought. At this stage, "Auto In Process" is displayed. These timings are compatible with the standard video signals provided by today's graphics cards. If no image or only a blurry image is displayed on the monitor, the signal is outside the standardized ranges. Such signals often occur in older medical equipment. In many cases, the unknown timing is displayed correctly without any additional settings. This is possible because a large number of known timings are stored in the monitor.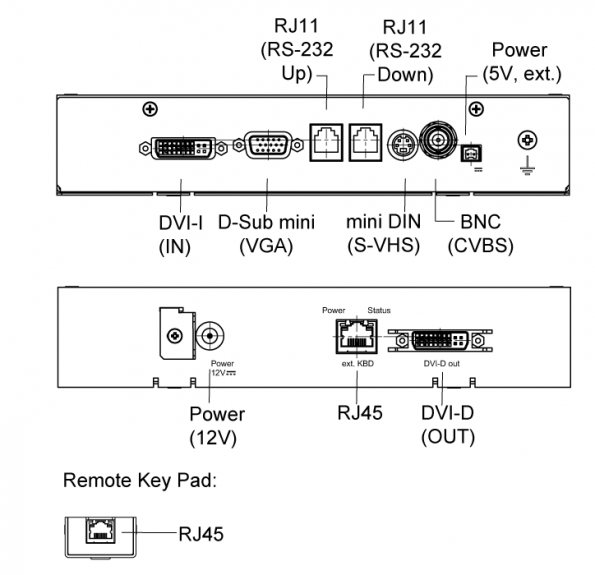 Additional video inputs
The Analog-DVI-Converter has two additional analog video inputs. Therefore, the monitors can be operated with standard analog video signals (PAL / NTSC). The RGB and video inputs can be connected simultaneously to different signal sources, thus the number of analog inputs, e.g. of a Large Monitor Manager (LMM0802).
Series connection of devices
The PDC0100 has two serial RS-232 interface sockets (upstream, downstream). The connectors allow serial bus operation to integrate the Analog-DVI-Converter into existing systems (bus connections).
Specifications
General
| | |
| --- | --- |
| Cabinet Color | Black |
| Certifications & Standards (Please contact EIZO for the latest information) | CE, EN60950, UL60950, CAN/CSA C22.2 No. 60950-1, EN60601-1-2-B, FCC-A, RoHS, RCM, China RoHS, WEEE |
| Supplied Accessories | AC adapter, signal cable (VGA – VGA, DVI – DVI), cable remote key pad with 30 m cable, Utility Disk (PDF Instructions for Use) |
Interface Specifications
Input Terminals
DVI-I (digital: DVI, analog: RGB)
D-Sub mini 15 pin (Separate, Composite, SoG)
BNC (Composite, PAL, NTSC)
4 pin mini DIN (S-Video)
Input Performance
Digital: DVI-D (single link), max. 1600 x 1200, 60 Hz
Analog: VGA, SVGA, XGA, SXGA, UXGA, PAL, NTSC
Scanning Frequency: Analog 30 – 100 kHz, 50 – 100 Hz
Output Terminals
DVI-D
Output Performance
1280 x 1024 (SXGA), 60 Hz
Communication Connector
RJ11 x 2 (upstream, downstream)
Supported Signal: RS-232 Bus
Features & Functions
| | |
| --- | --- |
| Controls and Status | LED (power, status) |
Power
Power Requirements
AC 100 – 120 V, 200 – 240 V: 50 / 60 Hz (external power supply)
12 V (converter)
DC 5V (for external devices)
Maximum Power Consumption
10 W
Environmental Requirements
| | |
| --- | --- |
| Degree of Protection | IP20 |
Physical Specifications
Net Weight
Converter: 850 g
Remote key pad: 90 g
Dimensions (mm)
Injection nut M3 on each side (distance 31.8 mm) x 2